Boris Johnson slapped down by statistics chief over fresh £350m claim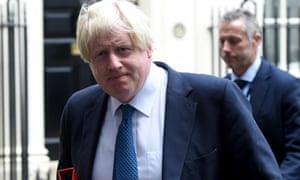 Boris Johnson Boris Johnson slapped down by statistics chief over fresh £350m claim
Sir David Norgrove says the foreign secretary's use of the figure in an article on Brexit is 'a clear misuse of official statistics'
Boris Johnson has been slapped down by the head of the UK Statistics Authority for restating the controversial claim that Britain will claw back £350m a week after leaving the EU.
Sir David Norgrove said he was "surprised and disappointed" by the foreign secretary's decision to repeat the figure in a 4,000-word article outlining his vision for Brexit.
"This confuses gross and net contributions," he wrote in a letter addressed to Johnson. "It also assumes that payments currently made to the UK by the EU, including, for example, for the support of agriculture and scientific research, will not be paid by the UK government when we leave.
"It is a clear misuse of official statistics."
The claim â€" "we send the EU £350m a week, let's fund our NHS instead" â€" was painted on the side of the Vote Leave campaign bus during the 2016 referendum campaign.
However, it caused controversy amid warnings that it did not take into account Britain's rebate from the EU. There was also a debate about the economic impact that leaving the EU would have and whether the additional funds would really be available.
The then head of the UK statistics watchdog, Sir Andrew Dilnot, said the figure was misleading and undermined trust in official statistics".
Michael Gove, a key Vote leave figure, said in his bid to become Tory leader that Brexit would free up about £100m a week for the health service. The former Ukip leader, Nigel Farage, who was part of a different Brexit campaign, said the use of the figure had been a mistake. The Brexit secretary, David Davis, has also been clear that he never campaigned on that point.
However, Johnson repeated the claim in his essay on Brexit, published in the Telegraph, saying it would be forthcoming.
"Once we have settled our accounts, we will take back control of roughly £350m per week," he said. "It would be a fine thing, as many of us have pointed out, if a lot of that money went on the NHS, provided we use that cash injection to modernise and make the most of new technology."
A spokesman for Johnson said: "Boris has spoken to Norgrove and he has made clear that he was complaining about the headlines and not Boris's piece and, in fact, admitted that Boris's wording in the piece was absolutely fine."
However, the foreign secretary's decision to reopen the debate was not welcomed by Cabinet colleagues including the home secretary, Amber Rudd, and first secretary of state, Damian Green.
Green would not be drawn on how much money would be coming back to Britain nor whether it would be diverted to the health service on the BBC's Sunday Politics.
"There are two stages before you get to that â€" first of all we need to agree the quantum of money that will be available to spend after we leave and secondly we need to decide how to spend that," said Green.
"We are some way off from deciding either the size of the money or how that should be allocated."
The Labour MP Chuka Umunna, a leading supporter of Open Britain, said: "Yet again Boris's outrig ht lying has been exposed by Britain's statistics watchdog. The £350m figure was simply wrong during the referendum campaign, and it's wrong now."
He argued that the IFS was forecasting a £58bn hole in public finances as a result of Brexit, adding: "Boris's compulsive lying means he has lost the right to be heard on Brexit. He should give his leadership ambitions a rest and apologise for his continual use of dodgy statistics."
Topics
Conservatives
Brexit
NHS
European Union
Foreign policy
news
Share on Facebook
Share on Twitter
Share via Email
Share on LinkedIn
Share on Pinterest
Share on Google+
Share on WhatsApp
Share on Messenger
Source:
Google News