France acid attack: US tourists assaulted in Marseille

France acid attack: US tourists assaulted in Marseille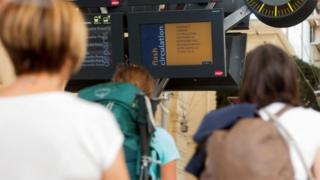 Two US tourists have had hydrochloric acid thrown in their faces at Marseille train station, French media say.
The victims in their early 20s have been taken to hospital for treatment, La Provence newspaper reported.
Two other members of their group were also attacked at Saint-Charles station, but did not get acid in th eir faces.
The incident is not believed to be terror-related. The attacker, described by police as a mentally unstable 41-year-old woman, has been arrested.
The report says she remained at the site after the attack, and showed photographs of herself with burns.
There have been numerous acid attacks across western Europe in recent months. including Britain and Germany. But the problem is now to be found all over the world.
Acid attacks around the world:
In Britain the problem has become so acute there have been calls for parliament to act. One such attack was caught on camera in London last month
In Berlin at the beginning of this year there was a series of acid attacks on women
A former Miss Italy finalist has also been attacked
Acid attacks have also been reported in the US, most recently in Arizona
In South Asia acid attacks have been commonplace for many years - with one case on Wednesday involving two men in India who allegedly gang-raped a woman and then later attacked her with acid
UK acid attacks: What has led to the rise?
Source:
Google News