Arroyo joins ruling PDP-Laban

Skip to main content Headlines Skinning Left, pagematch: 1, sectionmatch: 1 Headlines ( Leaderboard Top ), pagematch: 1, sectionmatch: 1 Arroyo joins ruling PDP-Laban By Gaea Katreena Cabico (philstar.com) | Updated October 11, 2017 - 4:26pm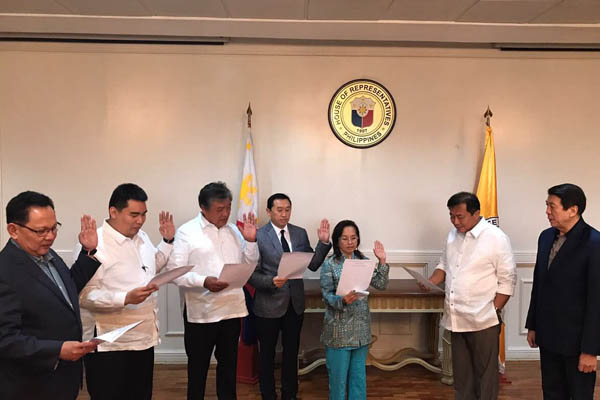 Former president and now Pampanga Rep. Gloria Macapagal-Arroyo took the oath to become a fully-pledged member of the party before PDP-Laban Secretary General and House Speaker Pantaleon Alvarez. She left her longtime party Lakas-CMD alongside former Cabinet members and party-mates. Photo from Majority Floor Leader Rodolfo Fariñas
MANILA, Philippines â€" Former president and now Pampanga Rep. Gloria Macapagal-Arroyo has joined the ruling Partido Demokratiko Pilipino-Lakas ng Bayan on Wednesday.
She took the oath to become a fully-pledged member of the party before PDP-Laban Secretary General and House Speaker Pantaleon Alvarez.
Before transferring to PDP-Laban, Arroyo was part of the supermajority in the lower house.
She left her longtime party Lakas-CMD alongside former Cabinet members and party-mates: former agriculture chief Rep. Arthur Yap (Bohol), Rep. Xavier Jesus Romualdo (Camiguin), former agrarian reform chief Nasser Pangandaman and Cagayan Economic Zone Authority chief Raul Lambino.
"My join ing the PDP-Laban is to consolidate support for the President. It is a matter of course as we have been talking about this for quite sometime," Arroyo said in a statement.
She served as the party chairman from 2008 to 2009.
Senate President Aquilino "Koko" Pimentel III on Monday said that the ruling PDP-Laban will no longer accept new members by the end of November.
READ: PDP-Laban shutting doors to new members to prepare for 2019
Headlines ( MRec ), pagematch: 1, sectionmatch: 1 Headines ( Button Ad ), pagematch: 1, sectionmatch: 1 Headlines ( Skyscraper 1 ), pagematch: 1, sectionmatch: 1 Healines Skinning Right, pagematch: 1, sectionmatch: 1
Source:
Google News