Ex-envoy: Trump's silence on rights kept meet with Duterte cordial

Skip to main content Headlines Skinning Left, pagematch: 1, sectionmatch: 1 Headlines ( Leaderboard Top ), pagematch: 1, sectionmatch: 1 Ex-envoy: Trump's silence on rights kept meet with Duterte cordial By Audrey Morallo (philstar.com) | Updated November 15, 2017 - 4:32pm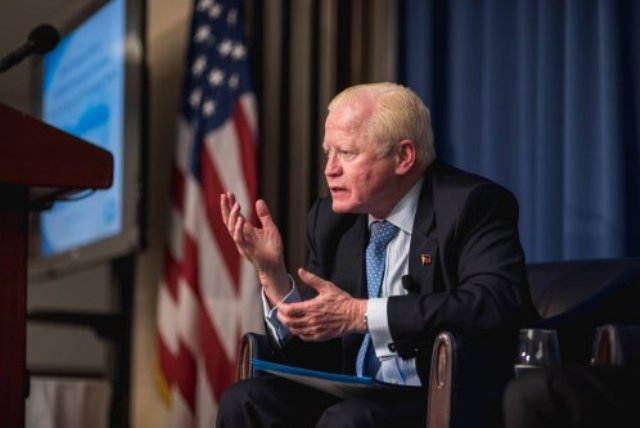 Former envoy to the US Jose Cuisia Jr. sai d that the decision of US President Donald Trump led to his "cordial relationship" with President Rodrigo Duterte. Embassy of the Philippines, Washington D.C., File
MANILA, Philippines â€" The "cordial" relationship between President Rodrigo Duterte and US President Donald Trump was partly due to the decision of the American leader to avoid discussing the country's human rights issues, according to a former ambassador to Washington.
Jose Cuisia Jr. said that Trump's decision to skirt a discussion on human rights concerns could be because of the US president's desire to have a "fruitful discussion" with the tough-talking Philippine leader.
"The more cordial relationship between President Trump and President Duterte helped the fact that President Trump deliberately avoided taking up the human rights issue, the EJKs (extrajudicial killings)," the former Philippine envoy to W ashington told ANC in an interview.
"I think that helped to ensure a more cordial discussion between the two leaders," Cuisia added, noting that American legislators will definitely criticize the US president for his decision to ignore human rights concerns that American officials have raised about the Philippines.
Cuisia contrasted Duterte's reception of Trump and his reaction to Canadian Prime Minister Justin Trudeau whom the Philippine leader slammed after he told the media that he expressed Canada's concern to the chief executive during a meeting.
READ: Duterte to Trump: 'Lay off' topic of human rights
Trump was in Manila to attend the Association of Southeast Asian Nations Summit and related meetings which were hosted by Duterte.
Duterte has been criticized in the Philippines and abroad for alleged human rights violations and extrajudicial killings, including some blamed on police officers, i n the government's war on drugs.
Authorities say that drug operations since last year have killed more than 3,900 suspects, much lower than figures cited by rights groups and activists who say that deaths have already reached between 7,000 to 12,000.
Duterte has been sensitive to criticisms of his war on drugs and usually treat these as personal slights.
Last year, a meeting between him and former US President Barack Obama was called off after the mercurial leader cursed the American leader and told him to go to hell.
He also announced, during a visit to China, Manila's separation from the US and has openly expressed his desire for the ejection of US troops from Mindanao, a development that has become unlikely considering the looming threat of extremism in the region.
READ: Int'l watchdog reacts to Duterte's plan to hold human rights summit
Cuisia however noted that Trump's decision was not a sign th at Duterte's antics had proven effective.
He said that the country's poor record in fighting corruption and upholding human rights had already affected its eligibility for a grant from the Millennium Challenge Corporation.
He said that there was a danger that the Philippines would not qualify for the second pact of the grant worth between $300 to $400 million after it failed to get good scores in human rights and fighting corruption.
The former envoy said that the Philippines qualified for MCC's first compact worth $434 million last year.
Duterte's economic managers are already appealing this decision, but Cuisia said that he doubted if the Philippines could change the mind of the MCC board.
"I doubt it because we did not do well in those two factors which are very important for the MCC board to approve a second contract," he said.
This however does not mean that the US is not committed to helping the Philippine s anymore in terms of its capacity-building, according to Cuisia.
The Enhanced Defense Cooperation Agreement between the Philippines and China is one sign of this American commitment, he said.
SPECIAL COVERAGE: ASEAN Summit in the Philippines
"I don't know how that will go, how we will fare out, but in the latest statement there was a commitment made by the US to continue helping the Philippines in terms of maritime security and maritime domain awareness," he said.
Another positive development arising from the bilateral talks between Duterte and Trump is the openness of Washington to a possible free trade agreement with the Philippines.
He also talked about efforts to expand the list of goods that would be given preferential trade treatments by the US. He said that the Philippines was trying to include footwear in this list after travel goods were given this preferential arrangement last year.
Headlines ( MRec ), pagematch: 1, sectionmatch: 1 Headines ( Button Ad ), pagematch: 1, sectionmatch: 1 Headlines ( Skyscraper 1 ), pagematch: 1, sectionmatch: 1 Healines Skinning Right, pagematch: 1, sectionmatch: 1
Source:
Google News