Military urges calm in Zimbabwe after it seizes key sites in capital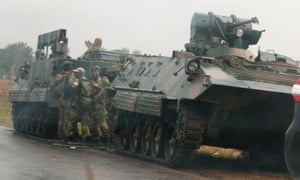 Zimbabwe Military urges calm in Zimbabwe after it seizes key sites in capital
Military spokesman says President Robert Mugabe and his family were 'safe and sound and their security is guaranteed'
Army denies coup against Mugabe â€" live
The military in Zimbabwe on Wednesday said it had temporarily taken control of the country to "target criminals" around the president, Robert Mugabe, amid high tension and reports of explosions in the capital Harare.
Soldiers have sealed access to parliament, government offices and courts in Harare, residents said. Access to the president's official residence was also blocked by troops.
A military spokesman, Maj Gen SB Moyo made an announcement on state television early on Wednesday saying Mugabe and his family were "safe and sound and their security is guaranteed". Troops had seized the network's offices late on Tuesday night.
Moyo said the army was targeting "criminals around" Mugabe, who were "committing crimes that are causing social and economic suffering in order to bring them to justice".
Zimbabwe army denies coup against Mugabe as it takes control of Harare â€" live Read more
The takeover comes following a bitter battle over who will succeed 93-year-old Mugabe.
Emerson Mnangagwa, the veteran vice president and former spy chief who has strong support among many in Zimbabwe's armed forces, was unceremoniously fired last week.
The move opened the road to power open to Grace Mugabe, the president's 53-year-old wife, and a rival faction within the ruling Zanu-PF party.
Insisting this was not a military takeover, Moyo said "as soon as [the armed forces] are done the situation will come to normalcy".
"We urge you to remain calm and limit unnecessary movement. However, we encourage those who are employed and those with essential business in the city to continue their normal activities as usual," he said.
Moyo said the army had acted because the Zimbabwe Broadcasting Corporation had been ordered not to broadca st a statement from the military on Monday and "the situation in our country has moved to another level".
Cancelling all leave for members of the military, he urged the security forces to "cooperate for the good of our country". He warned "any provocation will be met with an appropriate response".
Following the speech, Zimbabwe's military detained finance minister Ignatius Chombo. Chombo was a leading member of the so-called 'G40' faction of the ruling Zanu-PF party, led by Grace Mugabe.
There were reports of a number of loud explosions and some incidents armed forces harassing passers-by during the night.
Residents of Harare said the city was quiet on Wednesday morning, though the usually busy streets were empty. There was no sign of any disturbance elsewhere in the country.
A witness told Agence France-Presse of gunfire had erupted near Mugabe's private residence in the suburb of Borrowdale early on Wednesday, but there was n o independent confirmation of the report.
Nelson Chamisa, deputy head of opposition MDC party, called for "peace, constitutionalism, democratization, the rule of law and the sanctity of human life".
The US embassy in the capital tweeted out a message citing "ongoing uncertainty." A statement later posted by the embassy told US citizens in Zimbabwe to "shelter in place until further notice".
The British embassy said that due to the "uncertain political situation" British nationals should remain at home.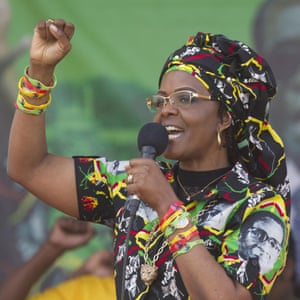 Military convoys had been seen driving through the capital earlier on Tuesday sparking rumours of a coup attempt just a day after the country's military chief â€" flanked by other senior officers â€" warned that he was prepared to "step in" to end turmoil in Zanu-PF.
Zimbabwe's government accused the head of the armed forces of "treasonable conduct" in the early evening, ratcheting up tension in the former British colony.
Mugabe, the only leader Zimbabwe has known in 37 years of independence, spent Tuesday afternoon in a cabinet meeting, but his whereabouts overnight were unknown. In its statement the military said they continued to r ecognise the president as commander in chief of the armed forces.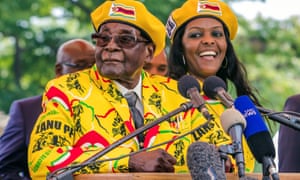 Mugabe's sacking of Mnangagwa came as a shock to many observers.
Nicknamed "The Crocodile" from his time fighting in the country's liberation wars, Mnangagwa has a strong support base among veterans and also from within the security establis hment that he once ran.
He had been considered the mostly likely candidate to succeed Mugabe if the president decided to step down or died in office. Mnangagwa's downfall and flight into exile was widely seen as paving the way for his arch rival, Grace Mugabe, to take power instead.

Mugabe's shock move caused widespread discontent among Mnangagwa's supporters and exposed deep factional divides within Zanu-PF ranks. On Monday, Gen Constantine Chiwenga, the head of Zimbabwe's military, called a press conference to warn that troops could intervene if long-term political allies continued to suffer.

"We must remind those behind the current treacherous shenanigans that, when it comes to matters of protecting our revolution, the military will not hesitate to step in," Chiwenga said, in a statement read to reporters at a news conference packed with 90 senior officers from across key units in a show of military unity.
The statement was initially carried on state media, then entirely wiped from the airwaves, but the government was slow to respond, with no word from Mugabe himself.

After a weekly cabinet meeting on Tuesday however, a statement was issued by Simon Khaya-Moyo, the government spokesman and national secretary for information and publicity, accusing Chiwenga of "treasonable conduct".

"Such conduct stands unreservedly condemned not only in the party ... but also in the [region] and the entire African continent where subversion of constitutional authority is ... regarded as absolute anathema," the statement read.

Mugabe's authoritarian rule has been anchored by support from the military but the ageing leader has systematically dismissed veterans of the liberation struggle from party posts in recent years leaving the top echelons of Zanu-PF stacked with officials who did not fight in the independence war.
War veterans broke ranks with him in 2016 and have vowed to form a broad front with the opposition to challenge his long rule.

Chris Mutsvangwa, the head of the war veterans' group, told reporters in Johannesburg last week that Grace Mugabe was "a mad woman" who had won power through a "coup ... by marriage certificate".

Mutsvangwa issued a statement from Johannesburg on Wednesday praising the military for carrying out "a bloodless correction of gross abuse of power."
The statement said the army will return Zimbabwe to "genuine democracy."
The first lady is a deeply divisive figure in Zimbabwe with limited popular support. She has been tarnished by an alleged assault against a model she had found in the company of her sons in a luxury apartment in Johannesburg in September.

Granted diplomatic immunity after the incident, she was allowed to leave South Africa despite a police inquiry and denies any wrongdoing.

Reports of extravagant purchases, including property in South Africa and a Rolls-Royce, have also angered many Zimbabweans. Pictures of one of the first lady's sons apparently pouring most of a bottle of champagne over a luxury watch worth tens of thousands of dollars in a nightclub were shared widely on social media this week.

The former junior administrator is detested by many of the independence-era war veterans, who once enjoyed a privileged role in the ruling party under Mugabe, but who have increasin gly been banished from senior government and party roles in recent years.

The crisis comes at a time when Zimbabwe faces severe economic problems. The country is struggling to pay for imports due to a shortage of dollars, which has also caused acute cash shortages.
Topics
Africa
Robert Mugabe
Grace Mugabe
news
Share on Facebook
Share on Twitter
Share via Email
Share on LinkedIn
Share on Pinterest
Share on Google+
Share on WhatsApp
Share on Messenger
Source:
Google News