No human rights, EJK in Duterte-Trump talks Skip to main content Hea...
No human rights, EJK in Duterte-Trump talks
Skip to main content Headlines Skinning Left, pagematch: 1, sectionmatch: 1 Headlines ( Leaderboard Top ), pagematch: 1, sectionmatch: 1 No human rights, EJK in Duterte-Trump talks By Alexis Romero (The Philippine Star) | Updated November 14, 2017 - 12:00am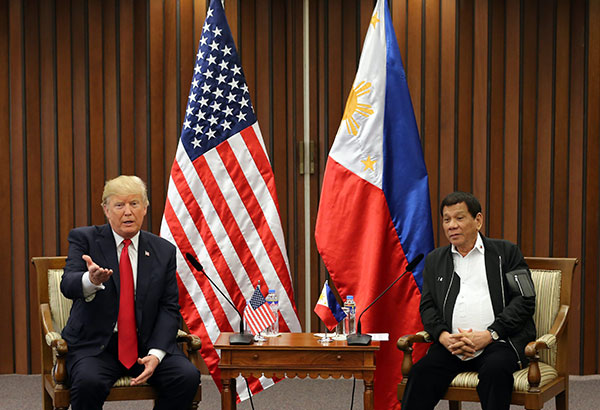 On Sunday, President Rodrigo Duterte said US President Donald Trump was not likely t o raise the issue on extrajudicial killings related to the anti-drug war when they meet for the bilateral talks.
Krizjohn Rosales
But war on drugs discussed
MANILA, Philippines â€" Human rights and extrajudicial killings were not discussed during the first bilateral meeting between President Duterte and US President Donald Trump on the sidelines of the Association of Southeast Asian Nations (ASEAN) Summit yesterday.
But Duterte discussed his war on drugs, which has been blamed for extrajudicial killings and other human rights violations in the country.
Malacañang and the White House released contradicting information on whether Duterte and Trump discussed human rights.
Presidential spokesman Harry Roque said the human rights topic was not discussed during the bilateral meeting.
"The issue of human rights did not arise, it was not brought up. It was President Duterte who discussed with US President Trump the drug menace in the Philippines," Roque said in a statement.
He said Trump appeared sympathetic, but did not express his official position on Duterte's campaign against illegal drugs.
"He was merely nodding his head, indicating he understood the domestic problem that we face on drugs," Roque said.
White House press secretary Sarah Sanders said the human rights issue was mentioned briefly during the meeting.
"The conversation focused on terrorism, illegal drugs and trade. Human rights briefly came up in the context of the Philippines' fight against illegal drugs," Sanders said.
When informed about Sanders' statement, Roque insisted the issue was not discussed.
He said the news reports stating Malacañang and the White House issued contradicting statements were "fair insofar as President Duterte described the war against drugs as promoting human rights."
"There was no mention of human r ights. There was no mention of extra-legal killings. There was only a rather lengthy discussion on the Philippine war on drugs with President Duterte doing most of the explaining," Roque said.
On Sunday, Duterte said Trump was not likely to raise the issue on extrajudicial killings related to the anti-drug war when they meet for the bilateral talks.
"Not extrajudicial killing. He cannot afford it. We do not talk about these things because, first of all, they are not true, and second is, we do not do it," Duterte said.
Ties reaffirmed
The meeting reaffirmed the Philippine-US ties, which were strained last year due to Duterte's tirades against former president Barack Obama for hitting his anti-illegal drug campaign.
"Trump said he's always been a friend of the Duterte administration, and that like the previous US administrations, he can be counted upon as a friend of the Duterte administration," Roque said.
T he Obama administration's comments on his anti-drug war did not sit well with Duterte, who said the US has no moral ascendancy to talk about human rights.
Duterte cited the atrocities supposedly committed by the US troops during the Iraq invasion and the Philippine-American War, and the US's supposed unfair treatment of African-Americans.
Addressing Duterte as Rodrigo, Trump delivered America's message of friendship and partnership for the Philippines and commended him for successfully leading the summit "at this very critical moment in time."
Trump said the US and the Philippines' diplomatic partnership advances the security and prosperity of Americans as well as the people of all Indo-Pacific nations.
He said the US remains committed to ASEAN's central role as a regional forum for total cooperation.
When Trump became president in January, Duterte expressed optimism that he and the US leader could get along well.
He said he sh ares similarities with Trump, who is also fond of issuing provocative statements.
Trump even praised Duterte for supposedly doing a great job in curbing the drug menace.
Roque said one of the things that made Duterte and Trump tick was their sentiments against Obama.
"It's very apparent that both of them have a person who they consider not their best friend. They have similar feelings toward former US president Barack Obama," he said.
Roque expressed belief that Duterte and Trump have established a rapport that would lead to an improvement of the two countries' relations.
"Duterte reiterated that the Philippines-US alliance has always been very strong and very important. He did acknowledge that there were sour points in the relationship and these were due to the statements of former US president Obama on the administration of Duterte," he said.
Roque described the meeting between Duterte and Trump as "frank."
'Spies'
White House journalists who covered the bilateral meeting asked Trump and Duterte whether they would discuss human rights.
But Duterte said he and Trump would not be answering queries.
"We are in a bilateral meeting. Maybe a press conference will follow. Thank you very much," Duterte told the journalists.
"We will be talking about matters of both reference to the Philippines and the US. With you guys around, you are the spies," he added, eliciting laughter from Trump and the delegates.
During the meeting, Duterte asked Trump to issue a statement for the media to have something to bring home.
Trump did not say a word about human rights. He opted to focus on the Philippine-US ties and the Filipinos who performed during the ASEAN gala night on Sunday.
"We've had a great relationship. This has been very successful. The ASEAN conferences have been handled beautifully by the President and the Philippines and your representatives," Trump said.
He thanked the Filipinos for the "fantastic" hospitality and lauded them for their great talent.
Trump, who had a rough relationship with the US media, took a jab at journalists for coming late to the bilateral meeting, saying they missed the best part of Duterte's statement.
He said he enjoyed being in the Philippines and praised Duterte for handling the ASEAN meet "beautifully."
A White House print pool report said members of the media saw an aide of Duterte giving him a pill, which the President took with a glass of water.
Palace officials have yet to comment on this matter.
Meanwhile, Sen. Sherwin Gatchalian, chairman of the Senate economic affairs committee, said the friendly tone of the bilateral meeting was a promising step toward revitalizing Philippine-US ties.
Gatchalian said the US remains one of the country's most important partners in trade, defense and security. â€" With Christina Mendez, Pia Lee- Brago, Paolo Romero
Headlines ( MRec ), pagematch: 1, sectionmatch: 1 Headines ( Button Ad ), pagematch: 1, sectionmatch: 1 Headlines ( Skyscraper 1 ), pagematch: 1, sectionmatch: 1 Healines Skinning Right, pagematch: 1, sectionmatch: 1
Source:
Google News