Judge Loya death: Don't want to make allegations against anyone, stop harassing us, says son


Home
India
Judge Loya death: Don't want to make allegations against anyone, stop harassing us, says son
Judge Loya death: Don't want to make allegations against anyone, stop harassing us, says son
"We faced some pressure from politicians and NGOs. We don't want to name anyone, but please excuse my family from continuously asking about my father's death," Judge Loya's son Anuj said
Anuj Loya S/O Justice Brijopal Loya held a PC at Nariman point in Mumbai on Sunday. (Express photo by Nirmal Harindran) Related News
Let CJI or Collegium judges hear all PILs: Bar association

Judge Loya death 'serious', SC seeks Maharashtra view on probe

SC to hear two pleas seeking judge Loya death probe today
Speaking to the media for the first time since a controversy erupted over the death of special CBI Judge Brijmohan Harikishan Loya, who had been hearing the Sohrabuddin Sheikh encounter case, his son Anuj said the family did not want to blame anyone and asked not to be harassed.
The row over Loya's death was reignited after the four most senior judges of the Supreme Court on Friday alleged that cases having far-reaching consequences for the nation and the institution had been assigned by the CJI selectively to benches 'of their preference'. Asked if it was about the pet itions seeking a probe into the death of special CBI judge B H Loya, Justice Gogoi replied in the affirmative.
The Caravan Magazine had reported last year that members of Loya's family, among them his father Harikishan Loya and sisters Anuradha Biyani and Savita Mandhane, had alleged that the judge's death was suspicious. Loya had died in 2014 when he was hearing the Sohrabuddin Sheikh 'fake encounter' case, in which BJP chief Amit Shah was an accused but was later discharged.
ALSO READ: CBI judge BH Loya's death in 2014: Nothing suspicious, say two Bombay HC judges who were at hospital
Addressing a press conference, Anuj Loya said the family had no suspicion over his father's death. "I'm going through media reports in the past few days. I had an emotional turmoil, hence I had suspicions about his death. But now we don't have any doubts about the way he died. We do not want to make any allegations against anyone," the seco nd-year student said.
With tears in his eyes, he also urged NGOs and politicians to stop "harassing" his family. "We faced some pressure from politicians and NGOs. We don't want to name anyone, but please excuse my family from continuously asking about my father's death," he said.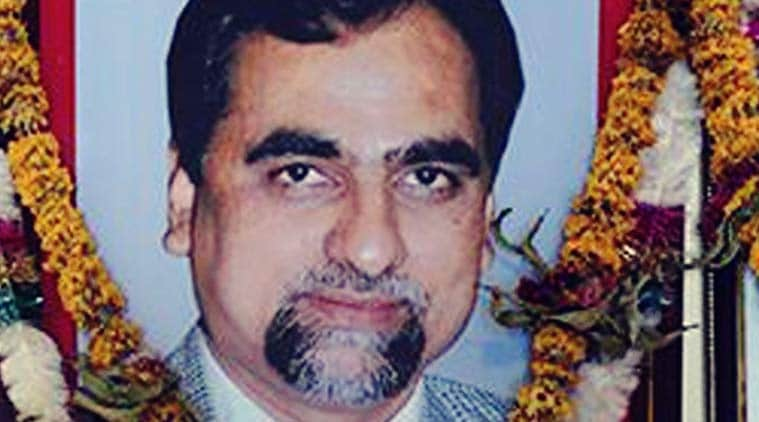 Judge Loya had died in 2014 when he was hearing the Sohrabuddin Sheikh 'fake encounter' case. (File Photo)
However, t his is not the first time that Anuj has spoken about his father's death. In November, TOI reported that Anuj called on the Bombay High Court Chief Justice Manjula Chellur to convey that the family had no complaints or suspicions about the circumstances of his father's death. Anuj told the CJ that the family was certain that his father had died of a heart attack.
In a separate statement, District judge (retired) KB Katake, a friend of Judge Loya, said the family didn't want to be a victim of politics. "Family of Judge Loya is being harassed. Many people are visiting his house and harassing him. We have no suspicion on his death. Do not want to be victims of any politics," he said.
The family's lawyer, Ameet Naik, reiterated that there was no need of politicising the issue. "There is no controversy. No need of politicising the issue. This is a tragic event. We do not want to be victims of politicisation of the issue. Let it remain the way it is, non- contro versial," Naik said. The petition in the Loya case is currently being heard by a bench of Justices Arun Mishra and Mohan M Shantanagoudar and is due to come up for hearing on January 15.
(With inputs from Agencies)
For all the latest India News, download Indian Express App
© IE Online Media Services Pvt Ltd More Related News
Supreme Court to hear plea seeking probe into Judge Loya's death
Sohrabuddin fake encounter: 5 more get bail; now all 38 accused cops out of jail
Most Read
FIR against Tribune reporter over Aadhaar data breach story
Padmavati becomes 'Padmavat', set to clash with Akshay Kumar's PadMan on January 25
Photos: Anushka Sharma back on the sets of Shah Rukh Khan's Zero after dreamy wedding
India vs South Africa 1st Test: South Africa beat India by 72 runs

Best of Express
Judge Loya death: Don't want to make allegations against anyone, stop harassing us, says son
Political, military approach must go hand in hand to bring peace to Kashmir: Army Chief
PM Modi welcomes Benjamin Netanyahu on 'historic' visit, Israeli PM says India a global power
OpinionAcross the aisle: Tr uth, post-truth and again the truth
OpinionFifth column: An idea gone very wrong
Buzzing Now
EntertainmentBigg Boss 11 finale LIVE UPDATES: Shilpa Shinde or Hina Khan, who will be the winner?
EntertainmentPuneesh Sharma makes an early exit from Bigg Boss 11 finale
EntertainmentVikas Gupta is the second runner-up of Bigg Boss 11
TrendingVIDEO: Woman gets hit by a car TWICE; survives miraculously
TrendingGuy goes on Tinder date, but realises there's something wrong
Top News

SHOCKING ! Pegasus Airlines flight skids off Turkish runway on Black Sea coast
Congress' wisecrack on PM Modi's 'hugplomacy' leaves BJP enraged
EntertainmentBigg Boss 11 finale LIVE UPDATES
Tamil Nadu politics: New messiahs, and how they are different from the old
SportsIndia 183/5 at stumps on Day 2 of second Test
SportsPBL Final Live: Hyderabad fight Bengaluru for title
LifestyleMahasweta Devi's 92nd birth anniversary: Remembering the fiery author and her work
LifestyleMakar Sankranti 2018 Special: Top Songs to Play during the Festivities
TechnologyWhatsApp 'obsolete' error: Here's all you need to know and how to fix
TechnologyFacebook 'Portal' to rival Amazon Echo Show, likely to launch in May: Report

Jan 14: Latest News

UPSC IAS Prelims 2018: Important topics which cannot be missed
Farmers attack, kill leopard with axes to save bullock
Sri Lanka would come back strongly, feels Romesh Kaluwitharana
Twenty lakh pilgrims take holy dip on Makar Sankranti
Twitter handle of India's UN envoy Akbaruddin restored after being hacked

Read Next
Twenty-eight held for attack on Nitish Kumar cavalcade
Feels good to see your name in the records books, says Rishabh Pant after 38-ball 116*
Strong earthquake in southern Peru leaves one dead, 20 injured

Source: Google News