IAF chopper crashes in Assam's Majuli island; two pilots killed, court of inquiry ordered


A microlight helicopter of the Indian Air Force with two pilots on board crashed on Thursday in Assam's Majuli island, killing both.Police in the island district confirmed the incident and the deaths. The wreckage of the plane has been sighted and a court of inquiry ordered, the officials said.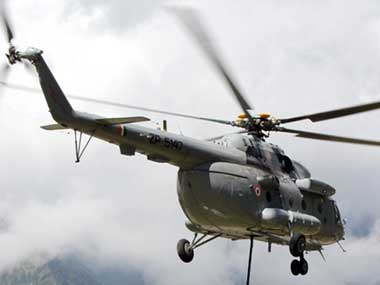 Representational image. PIB
The microlight aircraft crashed near Jorhat after taking off on a routine sortie and a court of inquiry has been ordered, official sources said.
The incident took place at Sumoimari Chapori, a police officer said, adding that defence and IAF personnel were on their way to Majuli.
Tezpur-based defence spokesperson Lieutenant Colonel Harshvardhan Pande told PTI that the two pilots killed in the crash were identified as Wing Commander Jai Paul James and Wing Commander D Vats. The pilots attempted an emergency landing but the aircraft crashed at a sand bar in the northern part of the district and went up in flames, the official said.
The crash took place at Darbar Chapori, a sand bar in the Brahmaputra, where there is no human habitation. People from other villages of the district spotted the aircraft going up in flames and informed the district authorities.
IAF personnel from the 10 Wing Air Force Station in Jorhat have rushed to the spot while police and senior officials of the district have also set out for the crash site which has to be reached by boat.
It is suspected that the crash took place due to technical reasons, the officer added.
Earlier on 14 January, a Pawan Hans chopper had crashed into the Arabian Sea. Six bodies including that of all the five ONGC officers and one of the two pilots of ill-fated Pawan Hans chopper, were recovered.
With inputs from agencies
Published Date: Feb 15, 2018 16:36 PM | Updated Date: Feb 15, 2018 18:21 PM
Source:
Google News